In October, Live & Learn hosted our first Yoga & Wine for a Cause. We hoped it would be an opportunity to build our community and raise awareness about our mission. It turned out to be just that: a relaxing evening with old friends and newcomers sharing a love for yoga, wine, and our Phoenix-community – though maybe not in that order.
This was an exciting evening for me. I am a yoga instructor at Pranayamamama Yoga, LLC, and I am an employee of Live & Learn. For this event, I got to bring two of my passions together: yoga and social justice.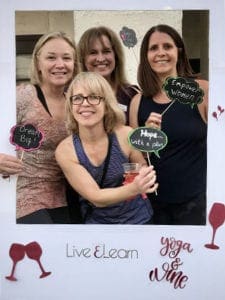 The event was held in the courtyard of the Live & Learn office in downtown Phoenix. The beautiful fall evening started off with mingling, and of course wine, followed by an hour of an all-levels yoga class under the starry sky. Ticket proceeds benefitted the women in our program. We also had raffles for a beautiful gift basket and for Live & Learn water bottles.
After yoga, we heard from Jonia, a Live & Learn woman who bravely shared her story with us and what Live & Learn means to her. You can read her full story here: https://liveandlearnaz.org/a-survivors-success-story-meet-jonia/
It was a great evening for a wonderful cause. I enjoyed getting to know some of the board members who give of their time to support Live & Learn. It was inspiring to see so many people from our community come out to learn about and support Live & Learn.
We will be hosting another yoga event this spring. I can't wait to see you there!
---
Post Written by:
Michelle Karamesic
Live & Learn Mentor, Coach, Community Outreach
Yoga Instructor at Pranayamamama Yoga, LLC