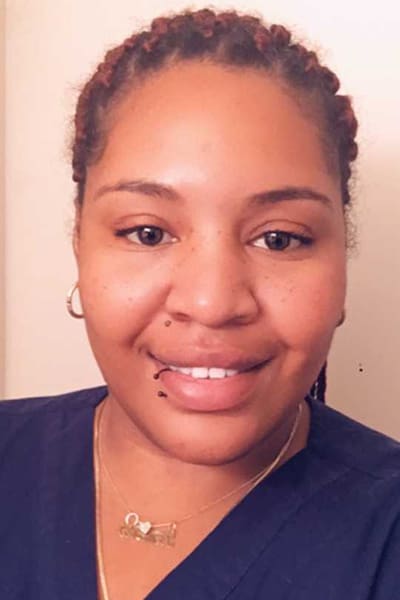 "Ever since I was a little girl, being a nurse was always my dream," remembers Tamara. As she grew older, Tamara lacked the self-confidence to pursue a nursing career, though she never stopped dreaming of it. It would take the birth of her son in 2017, and the support of her Live and Learn Client Coordinator Ruby before Tamara would believe in herself enough to pursue her lifelong dream of becoming a nurse.
For more than ten years, Tamara worked tirelessly as a caregiver in an Assisted Living Facility. She rose to a manager position, and she watched as employees came and went, the caregiver position just a stop for many of them on their journey to becoming nurses. One employee was a Live and Learn client and told Tamara frequently that she should look into the program. "But I just didn't really believe that I could do it," Tamara says.
When Tamara's son was born, her perspective changed. She still struggled with self-doubt, but she realized the importance of being a role model for him.
I had to show him that, with hard work, you can do whatever you want. Before I knew it, I was talking with Ruby about how I could start working towards becoming a CNA [certified nursing assistant] and then an RN.

– Tamara
Tamara worked incredibly hard. With Live and Learn's financial assistance, she started classes at Pima Medical Institute in Mesa. She earned excellent grades, graduated from the CNA program, and earned CNA and LNA board certifications, all while working full-time to support her family.
It was a hard journey. Tamara remembers well "all the nights of crying, thinking it was too much and I couldn't do it. School and work and my son…But the support of Ruby and Live and Learn helped me manage." For Tamara, the emotional support Ruby offered was every bit as critical as the financial support from Live and Learn. Tamara was able to text Ruby and always received encouraging responses right away. She and Ruby met regularly in-person to talk about how Tamara was doing, academically and mentally. "That helped a lot. It got me through this."
Plans for the Future
Within months of graduation, Tamara secured a livable-wage, full-benefits position at Banner Desert Medical Center. This position also offers tuition reimbursement, which will allow Tamara to continue her education. She is currently applying to RN programs, and her goal is to one day be an RN—just as she's dreamed of being since she was a little girl.