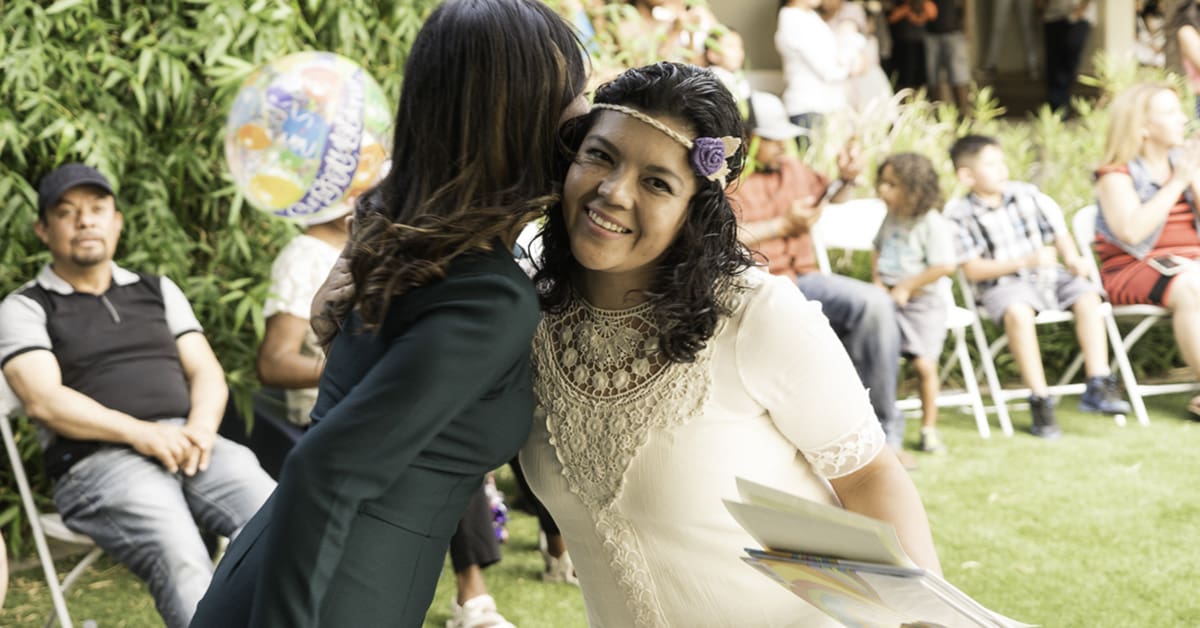 Ruby Cervantes joined Live & Learn as a Client Coordinator in spring 2017. During her two-and-a-half years with Live & Learn, Ruby helped over 200 women journey out of poverty. This is the second part of an interview Ruby gave just before she left Live & Learn in July 2019.
What was your biggest challenge during your time at Live & Learn?
The biggest challenge has really come towards the end of my time here. We're seeing community funding get tighter, not just for Live & Learn but for everyone. In the past year, I'm seeing community partners less able to collaborate. The impact on our clients is undeniable. It's incredibly frustrating.
So, I had to change how I helped my clients. A woman would face an obstacle during her time with us, and where we used to refer her to another nonprofit or a service-provider for help, these other groups are scaling back and can't offer the same level of support anymore.
Those of us working in this space are having to learn to dig in deeper. One of the things I love about Live & Learn is that we are small. We can just go where we need for each woman, do what we need to do. My supervisors would always say, "Okay, so what can we do?" and somehow, we'd figure it out. Everyone at Live & Learn always remains hopeful even in the face of incredible adversity. You see that from our leadership right down to our program staff, and I think our clients and our supporters sense that.
What was your proudest accomplishment?
I had no idea about the medical profession when I started, but I am very proud that I helped so many women get started on fantastic careers in the medical field. I've had to learn about all the different positions and certifications and licenses. The medical field can be a great option for the women Live & Learn works with.
I am so proud of these women. They have overcome unbelievable barriers. They are mothers, working and going back to school, recovering from terrible traumas. They are survivors. They are so strong. Some of them, as immigrants, struggled even with the language, but they still went to school, to work, did externships, cared for their children. They have built beautiful lives.
And there's no stopping them. I help them achieve their first goal, get to a better place. Then, they still contact me and tell me what they're up to. These women are just carrying on, achieving more and more. That brings tears to my eyes every time.
Is there any particular woman you worked with that stands out in your memory?
There is. I can't share her name because her ex-husband remains a threat for her. She's a mother, and what she's gone through is just…I can barely even wrap my head around it. The abuse almost took her life, I think many times. She's spent years off and on in shelters. She's struggled with addiction; she's been forced into sex work. For almost two decades she was stuck in a horrible cycle of violence. She will struggle with life-long physical effects from the violence she endured.
And yet, she is incredibly hard working and determined. She needed our support, but she's changed the future for herself and her children.
The success stories of Live & Learn women are always amazing. But when you're there with these women at the beginning of their journeys, it's really tough. This client was just crisis after crisis. But even in the middle of the worst crises, she didn't drop out of school, she didn't stop showing up for work, she didn't stop wanting better for her children. And so how could I stop believing in her?
She was working in a retail job, finishing school, and she took her board exams, passed them on the first try. Within a month of finishing school, she had a great job at Banner Health as a Respiratory Therapist. She's in a healthy relationship now, and she's just doing great!
I hope that Live & Learn never stops believing in these women.
What's next for you?
Well, I just graduated from Grand Canyon University with my Master's in Professional Counseling. So I am going to be working as a Family Therapist, helping individuals and couples, at La Frontera Empact. They are a nonprofit dedicated to helping build stronger families and communities, and they are doing wonderful things for low-income populations. I am very excited about this opportunity.
Even as I'm excited about my next step, I know I am going to miss the Live & Learn community so much. You will all stay very close to my heart.