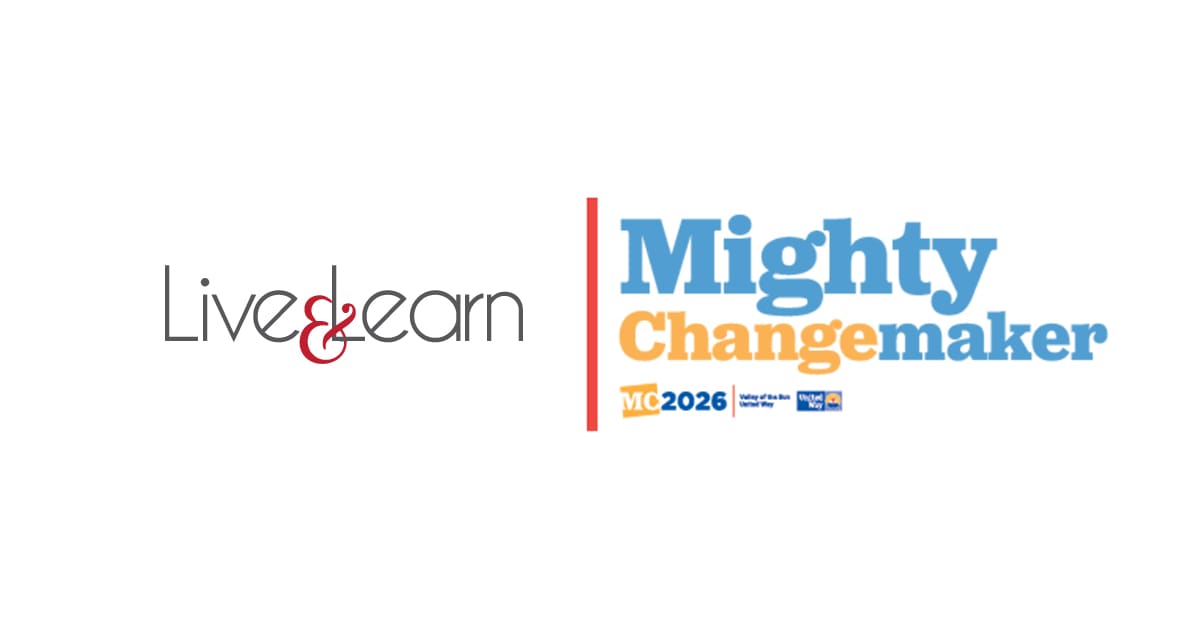 Live & Learn joins Valley of the Sun United Way and a coalition of partners working for Mighty Change.
Live & Learn has joined Valley of the Sun United Way and a coalition of other nonprofit organizations as a partner in MC2026, United Way's new five-year plan to create mighty change in Maricopa County.
Together, Live & Learn, United Way and other MC2026 partners will implement vital strategies to tackle bold goals which focus on creating solutions for the community's most pressing needs.
Specifically, Live & Learn will work to empower women to secure stable, safe housing for their families.  The support of United Way will assist 200 women living in poverty in Maricopa County, as they work towards stability and financial self-sufficiency in the Live & Learn program. Over 12 months, women complete career training, transition into good-wage jobs, and develop the financial literacy skills they need to secure housing and to stay housed long-term.
With the impact of Covid-19 and the end of the eviction moratorium, this investment from Valley of the Sun United Way makes an incredible difference to women who are working so hard to reach financial self-sufficiency," says Kristin Chatsworth, Live & Learn Executive Director.
Over the past year, Valley of the Sun United Way engaged more than 1,000 community members through three communitywide surveys, 18 virtual town hall sessions and 24 deep-dive focus groups in an unprecedented effort to identify Maricopa County's most pressing needs. The community-centered planning process led to the four key areas of focus for its new Mighty Change 2026 (MC2026) plan: health, housing and homelessness, education and workforce development.  Woven into each of the plan's strategies is a focus on diversity, equity, access and inclusion.
Rob Podlogar, Chief Development and Community Engagement Officer at Valley of the Sun United Way, said United Way listened to the community to develop the MC2026 goals and strategies, and saw opportunities for nonprofit, corporate, community, and government partners to work together to achieve those goals.
"We are excited to bring together and support this group of incredible partners to move the needle. By working together, we will create the mighty change needed so every person in our community has the opportunity to succeed."
---
Live & Learn was founded in 2012 as a community-based initiative to empower women to break the cycle of generational poverty. The organization serves adult women throughout Maricopa County who are living in poverty. These women are dependent on government assistance for their basic needs. Each year, 200 women complete Live & Learn's unique program by earning certifications, securing and retaining employment, developing life-skills and financial literacy, and accessing comprehensive healthcare services. Within 12 months, 70% of women are completely off of government assistance. As Martha, a Live & Learn alumna who is now a certified Medical Assistant and homeowner, explains, "Live & Learn was the beginning of a new life for me and my children."