The Live & Learn community celebrated International Women's Day this year by coming together to practice yoga, enjoy brunch, and hear from women currently in the Live & Learn program. It was a beautiful sunny morning in Live & Learn's courtyard, and a perfect way to mark the occasion.
International Women's Day is an internationally observed day meant to call attention to the economic, social, cultural, and political achievements of women. It is a day to focus on the barriers women face, but also, importantly, to celebrate the progress that has been made.
Live & Learn took the opportunity this year to celebrate the women in our community, including our volunteers, supporters, alumna, and the women in Live & Learn's program. Specifically, we recognized the many ways these women break down barriers and help each other pursue their dreams.
To begin the morning, Christine of Christine Hancock Yoga led an all-levels yoga class. Christine encouraged participants to be kind and compassionate to themselves, just as they are with the women around them.
After yoga, while enjoying a light brunch, participants heard Live & Learn women share their stories.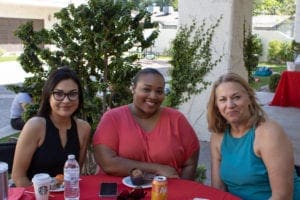 Nancy was struggling to make ends meet not long ago. She was providing for her young family by working at a daycare center, but they were living paycheck-to-paycheck. With Live & Learn's help, Nancy enrolled in community college and furthered her career as an Early Childhood teacher. She earned pay raises and promotions, but she didn't stop there. Nancy is currently enrolled in college pursuing a Bachelor's Degree in Special Education.
Evelin comes from an immigrant family. She is a young mother who tragically lost her partner a few years ago. Despite many obstacles in life, Evelin spoke about the hope and support Live & Learn gives her. She is preparing to graduate as a Medical Assistant from the East Valley Institute of Technology this spring, opening opportunities for stable employment that will allow her to provide for her family. Evelin is a hardworking woman determined to create a better future for her children in a career that lets her help others.
In recognition of Evelin's drive and passion for her education and career, she received the Brian Cline Medical Scholarship, named for one of Live & Learn's founding Board Members. This Scholarship will help Evelin continue her education and pursue her dreams.
Thank you to all who attended and made this event so enjoyable! Special thanks to Elevate Yoga & Wellness for donating to our raffle, and to Eric de la Cruz for volunteering his talent as a photographer. Visit his website www.ericdlc.com to see more of his amazing Arizona photography!
Look for more Live & Learn yoga events coming soon! Can't wait to see you there.