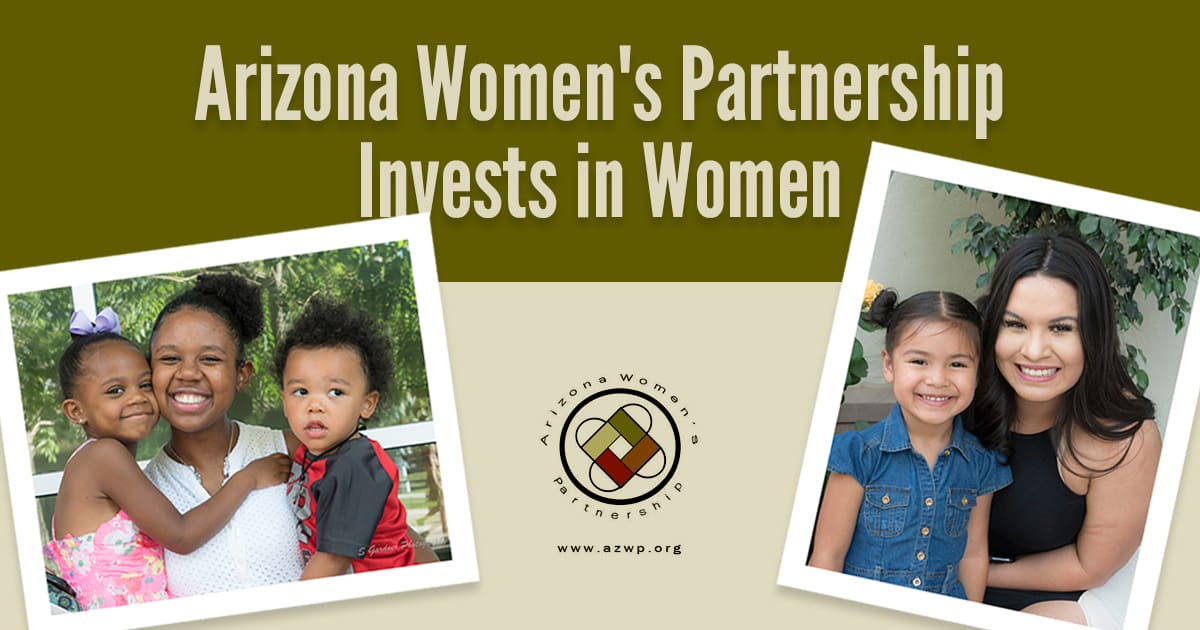 Arizona Women's Partnership Invests in Women
The Arizona Women's Partnership, Inc. is an all-volunteer philanthropic non-profit based in Phoenix that formed in 2002. With a commitment to providing grants to grassroots nonprofits that assist women and children in AZ, the Arizona Women's Partnership has given over half a million dollars in grant funding in less than 20 years. Live & Learn is grateful to be among the grant recipients.
"This is a huge milestone", notes Paula Cullison, Arizona Women's Partnership founder and President. "We continue to do as much as we can – for as many as we can – for as long as we can," Cullison added. 
"We are so pleased that we have been able to assist small charities that address critical needs; most are multi-year grant recipients," notes Pamela Gill, AZWP – VP.  
Funding from the Arizona Women's Partnership offers financial assistance to Live & Learn women to ensure they can access safe childcare. Maricopa County is a childcare desert, meaning that demand for childcare significantly outpaces supply. The Covid-19 Pandemic has worsened the situation by causing over a third of daycare and childcare centers to close permanently. This scarcity means that childcare is extremely expensive. Support from the Arizona Women's Partnership helps women pay for childcare as they begin a new job and await their first paycheck.
"The Arizona Women's Partnership is especially grateful to the Violent M. Johnson Family Foundation for their generosity which has amounted to $340,000 over the past 13 years. In this wonderful way, they continue to honor their maternal grandmother," Cullison added. This year AZWP had a matching challenge donation of  $3,000 from Ralph and Roxanne Martin which was more than matched.
2021 Grant Recipients:
About Care for the Elderly – provides services to the disadvantaged elderly in the East Valley;
Achieving My Purpose – programs for disadvantaged minority girls Metro Phoenix;
Alice's Place – provides counseling and shelter for victims of domestic violence in Winslow;
Angel Heart Pajama Project – provides PJs and books to abused/neglected/foster care children in Tucson;
Arizona Association for Foster and Adoptive Parents – variety of services including family camp;
Arizonans for the Protection of Exploited Children and Adults – shelter for sexually abused girls;
AZ Reach – provides services for disadvantaged teens on the Westside clothing / school supplies / mentoring;
Billy's Place – provides grief counseling to children of deceased parents in Phoenix Metro;
Constructing Circles of Peace – provides domestic violence counseling services in Nogales, AZ;

 

Control Alt Delete – provides services for women and children fleeing domestic violence Mesa;
Desert Sounds Performing Arts – provides musical instruments / instruction for low-income youth Mesa;

 

Dignity House – provides shelter for sexually trafficked / domestically abused women in Metro Phoenix;
Foster AZ – provides services for children aging out of the foster care system in Arizona;
Grand Canyon Music Festival – Native American Composer Youth Project: Navajo /Hopi/Salt River-Pima;
H.A.V.E.N. Family Resource Center – provides crisis counseling in Lake Havasu
Helping At Risk Teens (HART) – provides food and supplies for disadvantaged youth in the West Valley;
Hope's Crossing – provides reentry program for women released from incarceration in Metro Phoenix;
Kids in Focus – provides photography programs and mentoring to at risk youth in Metro Phoenix;
Laptops4Learning – provides laptop computers to disadvantaged HS / college students in Metro Phoenix;
Live and Learn AZ – program for women to break cycle of poverty: offers ongoing, individualized supportive services;
One Hundred Angels – provides a variety of services and medical assistance to immigrants Phoenix Metro;Pan de Vida – provides intergenerational social services in Queen Creek / East Valley;
Somali American United Council of AZ – serves a variety of different refugee groups in Metro Phoenix;
Unlimited Potential – provides ESL and GED programs for Hispanic women and families South Phoenix;
Welcome to America Project – provides household furnishings / services to refugee families Metro Phoenix;
Will2Walk – provides services to those with spinal cord injuries in the East Valley; and
Y.E.S. for Navajo Youth / Dine'Bike'yah – provides leadership programs for youth on the Navajo Nation.
 

For more information, visit: www.azwp.org

 

/ e-mail: azwpinc@aol.com / Tel: 602-863-9744