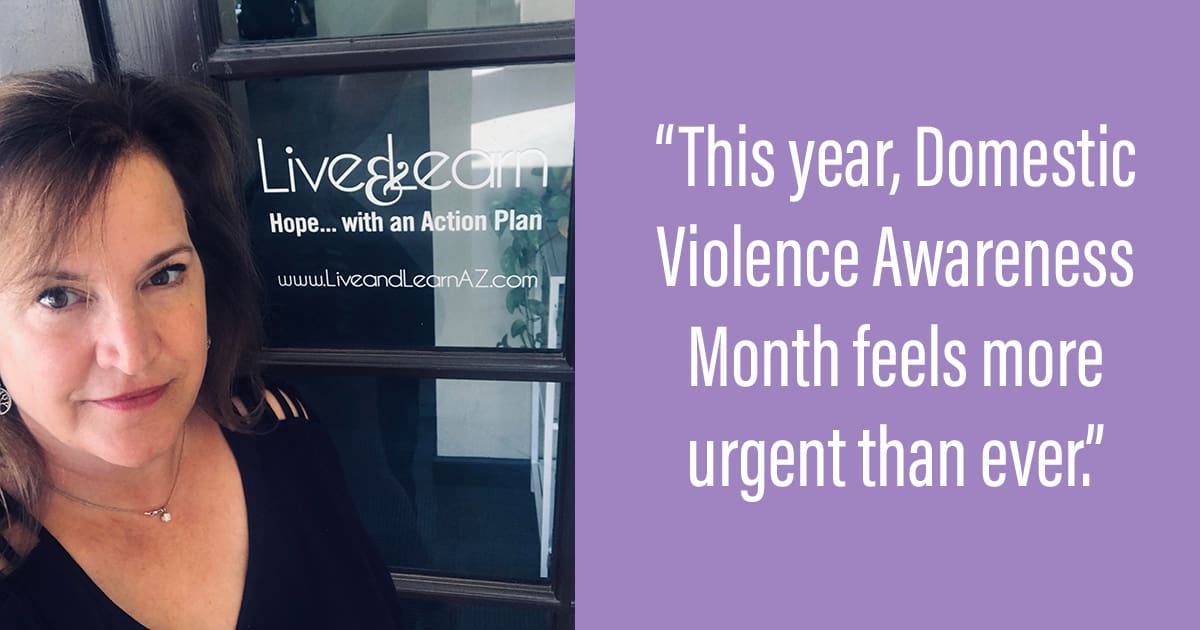 Dear Friends and Supporters,
Every October, we recognize Domestic Violence Awareness Month, but, this year, Domestic Violence Awareness Month feels more urgent than ever.
When families are not financially stable, the stress and conflict increases the risk of domestic violence. When childcare and housing costs rise, more women become trapped in domestic violence situations. This is what is happening right now, in Maricopa County.
Just this week, Live & Learn paid rent for 3 women in our program.< One woman received a 5 day eviction notice, with over $300 in additional charges. Our trained staff called every resource available in our community. They spent hours on hold, secured appointments for rental assistance that had to be scheduled out days in advance. Meanwhile, eviction day crept closer and closer for this woman and her children. In the end, no help came. Her paperwork could not be processed quickly enough.
I spoke to some other agencies directly. One said to me, "If she was homeless, we could help, but as long as she has a place to live we can't help."
I hear all the time that there is so much money to help with evictions. Maybe, but getting that money is a whole different story.
I am proud to say that is what makes Live & Learn different. We helped this woman with rent, and not as a band-aid but as a next step. Working with women to figure out how they will pay in November. Looking long-term to make sure they don't have to live in their car or lose custody of their children. Supporting women as they go through all the hoops to get help, to help their kids, and to keep working and trying to change their family dynamics. To truly break the cycle of generational poverty.
Over 90% of women in the Live & Learn program have experienced domestic violence. They are working hard to reach financial stability and self-sufficiency so that they can change their situation.
For Domestic Violence Month, I challenge you to do these three things:
Text HOPE to 801801 and make a donation to give hope to local women.
Sign up for our virtual community presentation on October 21st at 12pm. We will be discussing Domestic Violence in Maricopa County. Register here: https://secure.lglforms.com/form…/s/ZYCAViib6PNAMVe0tPglLA
Wear purple and start conversations with your friends, family, and coworkers. Share a selfie on social media with #WearPurple (and tag @LiveandLearnAZ)! Raising awareness is one of the most important things we can do.
Together, we can empower women to create a brighter future for themselves and their children.
Thank you,
Kristin Chatsworth, Executive Director