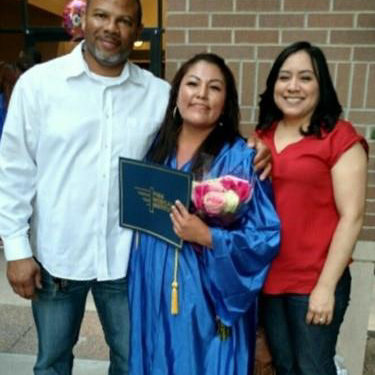 I would recommend  Live and Learn for people who want to, but don't know how to put one foot in front of the other. Live and Learn  has allowed me to have confidence in myself, it has allowed me to keep going forward.
— Raquel
Meet Raquel
Raquel didn't know how. She didn't know how she was going to pay the bills. She didn't know how to get out of debt. She didn't know how she could get an education or a good job. She worried about how her three young sons would grow up. Raquel, a native Phoenician, grew up in poverty, struggled with drug and alcohol addiction, was divorced, was raising her three sons alone, and was homeless.
In 2015, with help from the Changing Lives Center in Phoenix, Raquel overcame her addiction, but she worried about leaving the Center without a plan for how she would take care of her family. She wanted more than a life of struggling, for her sake and for the sake of her sons. Since she was young, she had always wanted an education and a career, but growing up, she did not have any support, encouragement, or role models to show her how to achieve such things. Raquel's case manager at the Changing Lives Center referred her to Live and Learn.
"When I met Kristin from Live and Learn, talking to her was the first time I ever sat down with someone who was interested in what I wanted, someone who wanted to see me grow and succeed," says Raquel. Live and Learn staff saw from Raquel's initial application and interview that she was determined and not afraid of hard work, she just needed support. As a Live and Learn client, Raquel graduated from PIMA Medical Institute's medical assistant program, and it was hard work indeed:
"While I was with Live and Learn, I had two part-time jobs, went to classes, and was a single mother to my three boys. It's not just the financial help Live and Learn gives you, it's the support. When I wanted to give up, when I thought I couldn't do it anymore, they still believed in me."
Raquel still marvels at how drastically her life has changed in the past two years: from homeless and unable to imagine a bright future, to a medical assistant with a job she enjoys and a wage that lets her support her family. She has plans to further her education, and she is determined to ensure each of her three sons stays focused on their own educations through high school and beyond. "My kids see my hard work and sacrifices for my own education, and I am showing them how important education is to your future," she says. "Education is how you achieve your dreams."
Plans for the Future
Raquel is staying focused on achieving short-term goals that will get her ever closer to the life she's dreamed of. She is currently working towards becoming a Board Certified Medical Assistant, which will allow her to work in a hospital. After that, she hopes to return to school part-time to become a Registered Nurse.