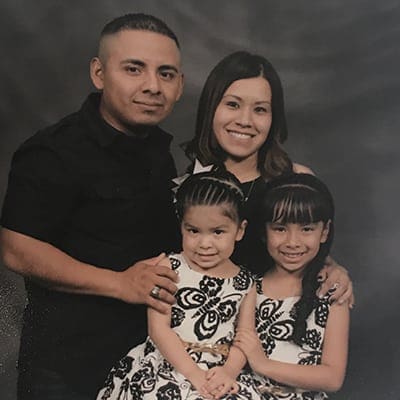 I thank God every day for giving me strength to keep going with my life and guide my daughters. Also, my husband for supporting me on my most stressful days.
— Maria
Meet Maria
"Things happen for a reason," Maria insists. "I was tested, to see if I would carry on or just fall down." In July 2016, Maria's youngest daughter was diagnosed with cancer. Maria, her husband, and their daughters had a strong community of friends and family supporting them, and her daughter received excellent medical care. Still, Maria, a new Live and Learn client who had come so far in her personal journey, felt like falling down.
Years earlier, Maria had deferred college and her plan to become a teacher when she had her first child. Instead, for six years, she cared for her young family and worked to make ends meet. "Especially as a woman, you feel like you can't focus on yourself because your kids need you, and you just don't have time," she explains. "But Live and Learn helped me see things differently."
Maria applied and was accepted to the Live and Learn program at the end of 2015. Stephanie, Maria's Live and Learn Client Coordinator, helped her enroll in classes at Phoenix College for the Spring 2016 semester, and Stephanie continued to support Maria as she learned to balance motherhood and schoolwork. As she completed her first semester, Maria was already planning for the following semester, looking forward to the classes she would take.
But that plan was derailed by her daughter's diagnosis. "I lost all hope and I couldn't see any reason to go back to school," Maria recalls. She lived through some of the darkest days of her life. "During that time, I prayed a lot, I was so desperate. One day, I realized my daughters need to see me doing something with my life. No matter how hard, I was going to go back to school for them." 
Live and Learn was there to help. Maria joined other clients in study groups, she received crucial emotional support, and she received financial support. She earned straight A's, was inducted into the Honor's Society, and was invited to join Phi Theta Kappa. She also gained confidence and a renewed sense of hope. Most importantly, she showed her daughters the importance of school. They see how hard she works, and they ask what homework she has and how her day at school went. "And we talk about their futures, and the plans for how they can achieve what they want."
In Spring 2017, Stephanie encouraged Maria to apply for the prestigious Nina M. Pulliam Legacy Scholarship. The scholarship funds four years of full tuition plus a monthly living stipend. It also offers an opportunity to extend funding for two additional years. "I only applied because of Stephanie.
I didn't have the confidence, but Stephanie kept telling me that I deserved it and I could do it," Maria remembers. From a large pool of applicants, Maria was awarded the scholarship in May 2017.
 "When my daughter was diagnosed, I felt like falling down. Instead, I became a stronger person. I'm very proud that I carried on."
Plans for the Future
With the Nina M. Pulliam Legacy Scholarship, Maria plans to complete her Associate's Degree in Early Childhood Education at Phoenix College. She then plans to transfer to Arizona State University and earn a Bachelor's Degree in Elementary Education. Ultimately, Maria hopes to become a certified teacher and fulfill her dream of teaching elementary school students. Her daughter is in remission and doing well.