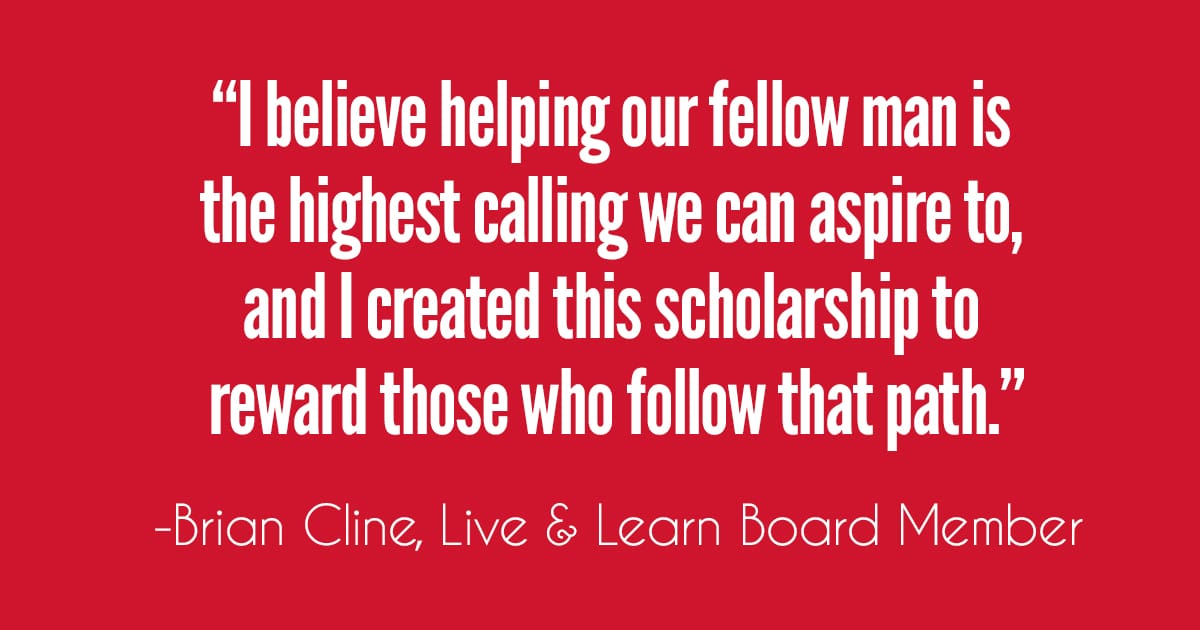 The Brian Cline Scholarship was established in 2016. Its purpose is to enable women breaking out of generational poverty to achieve careers in healthcare. The scholarship is named for and funded by Brian Cline, long-standing Live & Learn Board Member and fierce Live & Learn advocate. Since 2016, five Live & Learn women have been awarded the scholarship. These women have worked hard and, with help from the Brian Cline Scholarship, they have excelled.
Brian Cline joined the Live & Learn Board of Directors in 2015. Mr. Cline works as a Medical Career Specialist at Pima Medical Institute. With his expert knowledge of navigating medical career pathways, Mr. Cline has been instrumental in advising the development of Live & Learn's healthcare career track. This is one of the most popular Live & Learn career tracks, with about 80 women pursuing it each year, and much of its success is due to Mr. Cline.
Empowering women to succeed in the healthcare field is a very personal mission for Mr. Cline. "My mother was a nurse, and I always admired her unconditional caring for her fellow man," Mr. Cline reflects.
As Mr. Cline watched Live & Learn women overcome incredible obstacles to break the cycle of generational poverty, complete their educations, and secure healthcare jobs, he was inspired to establish a scholarship fund. Financial need is one of the greatest barriers to success for women experiencing generational poverty. Women are more than willing to do the hard work of learning, studying, and balancing work, school, and parenthood. A scholarship is a strong incentive to encourage women to keep furthering their education.
Women like Evelyn. Evelyn came from a loving though poor family. She became a mother in her early 20s, and it was a struggle to make ends meet. Evelyn worked at a grocery store, and money was tight. When her son's father died, things became even harder. Evelyn is a woman of deep empathy and compassion, and she long dreamed of a career in healthcare. Live & Learn helped her pursue it. With support of the Brian Cline Scholarship, Evelyn completed school to become a Medical Assistant.
During the Covid-19 pandemic, Evelyn works in local housing agencies to administer Covid-19 tests to the most vulnerable in our community to keep them safe. She administers tests to people who are rarely understood by the healthcare workers they see, but Evelyn understands them. Evelyn understands the mothers who have experienced homelessness and are living in shelters with their children during a pandemic. She understands families that live precariously paycheck to paycheck. The incredible work Evelyn is doing during Covid-19 is possible in part thanks to the Brian Cline Scholarship.
Brian has been such an influential person in my life. From career guidance to a scholarship, he made a hard and challenging road a little easier.
— Evelyn Pulido, Live & Learn Client, Brian Cline Scholarship Recipient
Through his service on the Board, his guidance of the healthcare career track, and the Brian Cline Scholarship, Mr. Cline has made a lasting impact on Live & Learn, countless women, and our broader community. We are deeply grateful for his support and dedication to the Live & Learn mission.
Nothing else in all of life is such a maker of joy and cheer as the privilege of doing good.
— James Miller
Brian has made it a priority to make me feel at ease and confident in my pursuit of higher education. Brain made sure all my questions and concerns were always answered and addressed. Brian followed up and checked in with me. He was a constant advocate on my behalf. He always looks out for my best interest.
Brian Cline Scholarship Recipients
Jamie Merril
Selina Fernandez
Sephra Young
Evelyn Pulido